2016 Summer Camps

(714) 544-3072

Tustin Dance Center offers 4 different Summer Camps for children ages 0 – 11. Camps are held throughout the summer. Click on a link below to learn more about a specific camp. Click the Register Now link to reserve your spot in a camp, or click the View Camp Schedule link to view the 2016 schedule.
Now Registering
Check back for 2017 Summer Camps!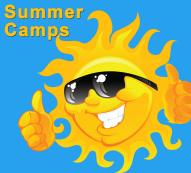 Summer Camps Are Fun!
Our camps are fun and educational, and are a great way for families to make new friends.  All camps are 5 days in length and meet on consecutive days in the scheduled week with one exception –  camps for babies meet weekly for 5 consecutive weeks.
The 2017 summer camp line-up will be posted toward the end of 2016. Check back in January and consider joining us next summer!