Several years ago Tustin Dance Center established a non-profit entity named Dance! To Your Heart's Delight for the purpose of promoting and spreading the joy of the arts to children and families in Orange County. With the primary vision of instilling in students' hearts a love for the art of dance within a professional production arena, this holiday season we are proudly producing and fully-staging our 19th annual The Nutcracker Ballet, featuring a cast of nationally-renowned professional dancers and over 40 very talented student dancers from Tustin Dance Center. Our three amazing performances will be held on the weekend of December 2 - 3, 2023 at beautiful Downey Theatre in Downey.
As part of our mission and the emphasis of our HeARTS program, Dance! To Your Heart's Delight will also donate an entire performance of our Nutcracker Ballet to the underserved in our community on Friday, December 1, 2023 at Downey Theatre. This is our 10th consecutive year of making significant ticket donations to the underserved. We need your help. Your sponsorship will help us accomplish this gift to the community and offset the production expenses.
You can also sponsor refreshments for recipients of Dance! To Your Hearts Delight's events and performances. Sponsor refreshments for the underserved at our December 1 performance of The Nutcracker at intermission. Or, sponsor refreshments to the underserved and aged at our many 'Nutcracker in a Nutshell' community mini-performances this fall.
The HeARTS program relies on the generous sponsorships and donations to bring joy to the underserved and aged in our community at an often-difficult time of year when they are reminded of their loss, loneliness or broken family. Through your sponsorship, we can make the holidays less of a burden for many of our neighbors.
We offer several sponsorship levels in the HeARTS program (see below). Please direct your sponsorship questions to Kelly Meyers at (714) 544-3072 or info@dtyhd.com.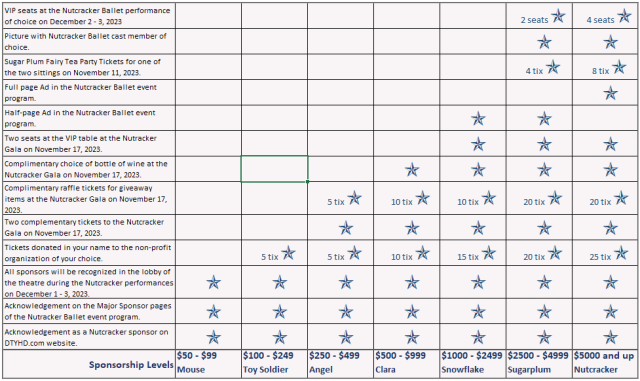 View or download 2023 HeARTS sponsorship levels in PDF-format.
Other Ways You Can Help Support Our Mission
As a part of the Tustin community since 1978, thousands of dancers have waltzed through the doors of Tustin Dance Center. Our students attend local schools, dance on teams at OCSA, Foothill, Tustin and Beckman High Schools, and many have gone on to professional dance careers. And each year, we have the absolute privilege of working with over 40 studio dancers who share their talents in our Nutcracker Ballet performances.
We believe in the power of dance. Through dance, our students learn how to move and express themselves, and how to persevere when faced with adversity. Through dance, our students build the confidence to lead and succeed in the classroom and in life. Through dance, our students would love to bare their heart and soul to you in these upcoming HeARTS program events.
In addition to the HeARTS program, Dance! To Your Heart's Delight also uses general donations to repair and replace the hundreds of costumes used in our Nutcracker Ballet production, to sustain operating costs and to support our other programs as directed by donors. Consider becoming any of the following: